29 juin 2017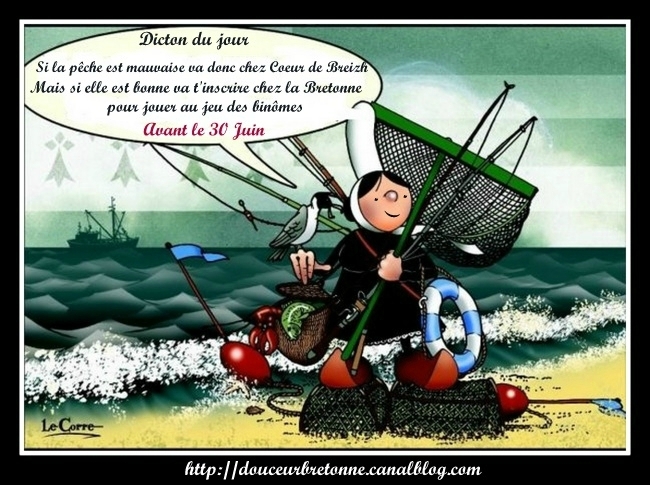 Si vous désirez participer : l'inscription c'est chez http://douceurbretonne.canalblog.com/
Toutes les informations se trouvent sur son blog et le dernier jour d'inscription : c'est demain le 30/06/2017.
Allez y viiiite !
31 janvier 2017
Voilà le dernier échange de Noël - Here is the last exchange of Christmas :
Organisé par la boutique http://www.aufildemma.com/ , il s'agissait d'un échange de fournitures, d'une carte textile, d'une surprise et de gourmandises. Chacune devait envoyer à une autre personne qui envoyait à une 3ième et ainsi de suite.
Organized by the shop http: // www.aufildemma.com/, it was about an exchange of supplies, of a textile card, a surprise and delicacies. Each had to send to another person who sent to a 3rd and so on.
Voici ce que j'ai reçu d'Annie :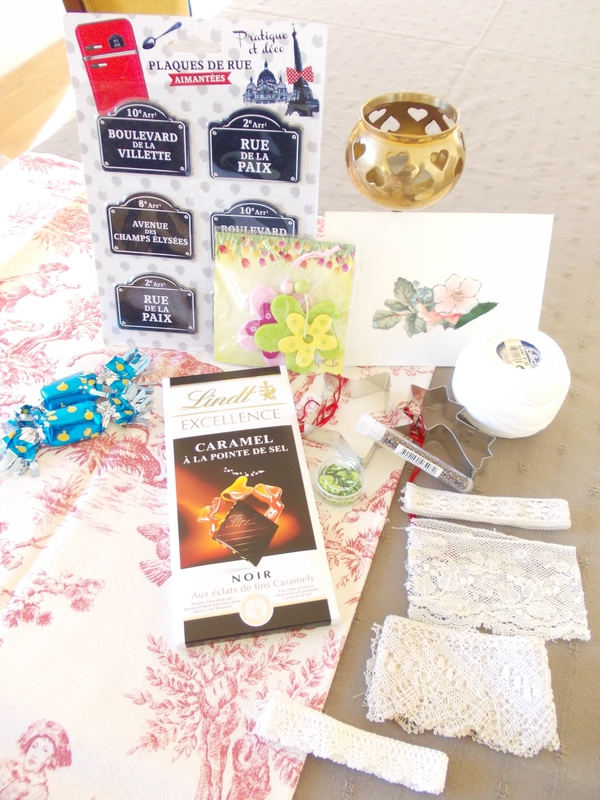 vue d'ensemble - overview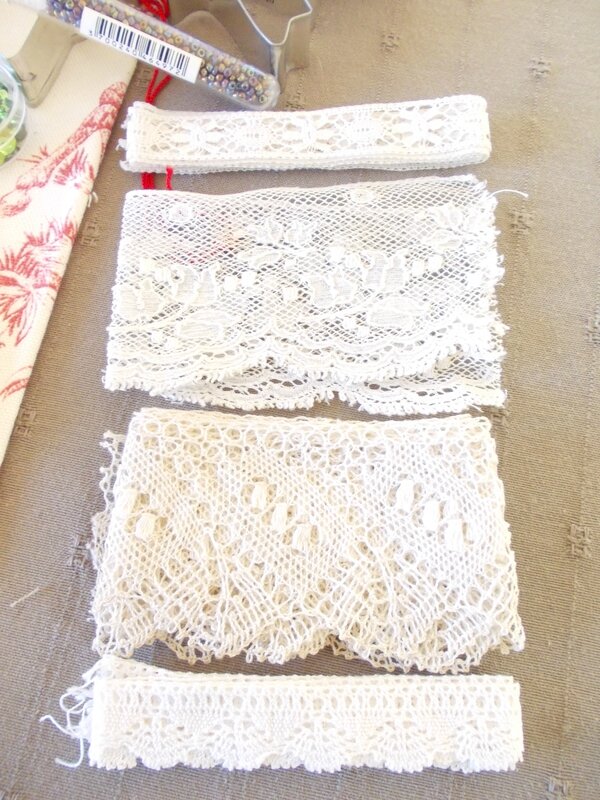 dentelles - lace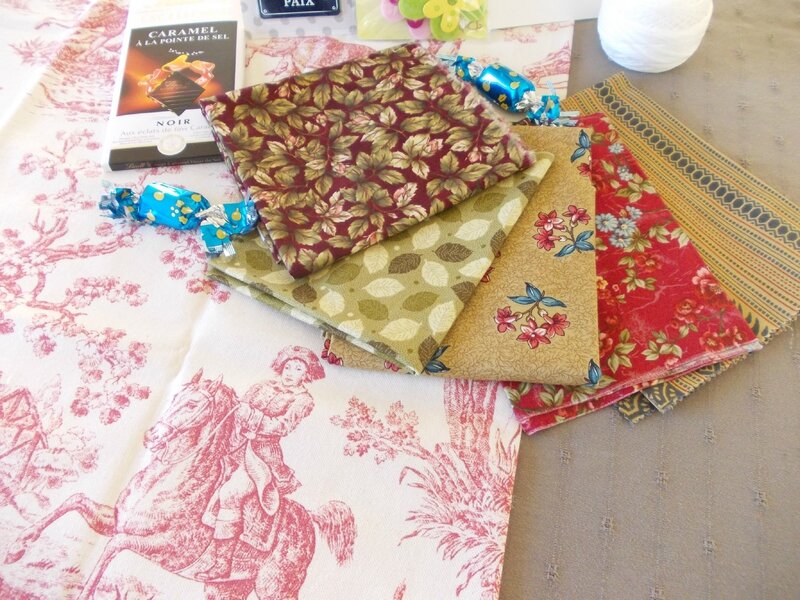 toile de Jouy et autres tissus - Cloth of Jouy and other fabrics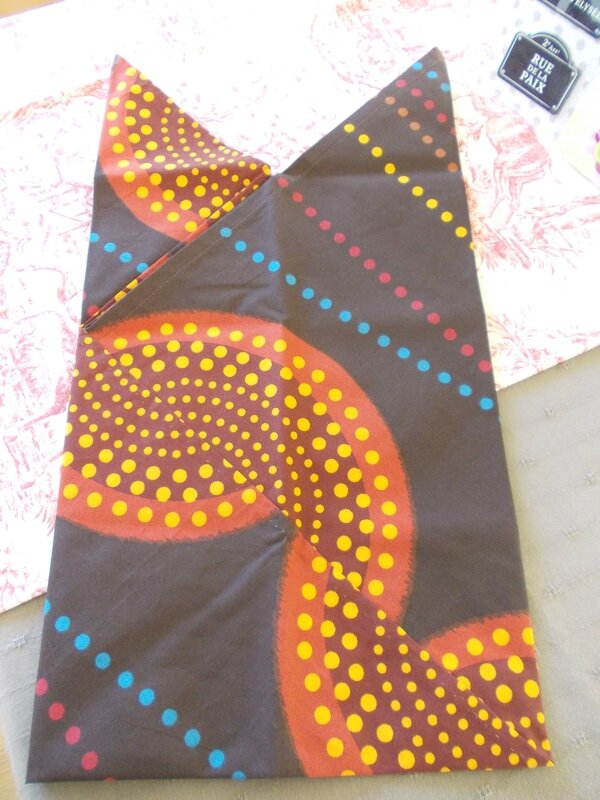 un sac en tissu - a fabric bag
Et voilà ce que j'ai envoyé à Brigitte du blog : http://brigitteo.canalblog.com/
And that is what I sent to Brigitte of the blog : http://brigitteo.canalblog.com/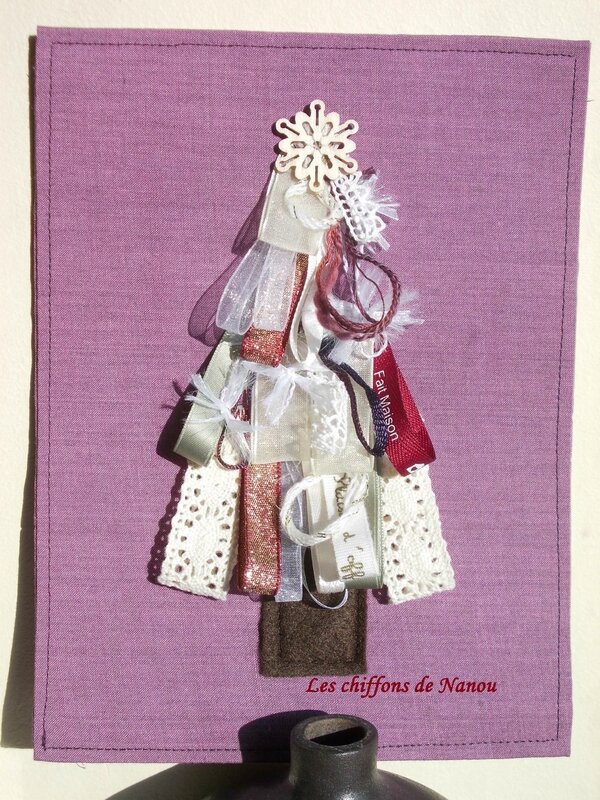 la carte textile - the textile card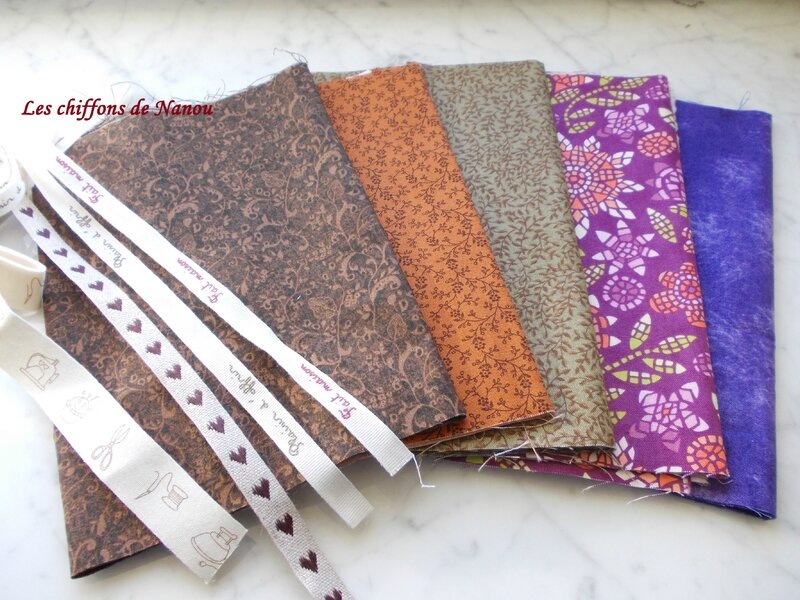 assortiments de fournitures - assortment of supplies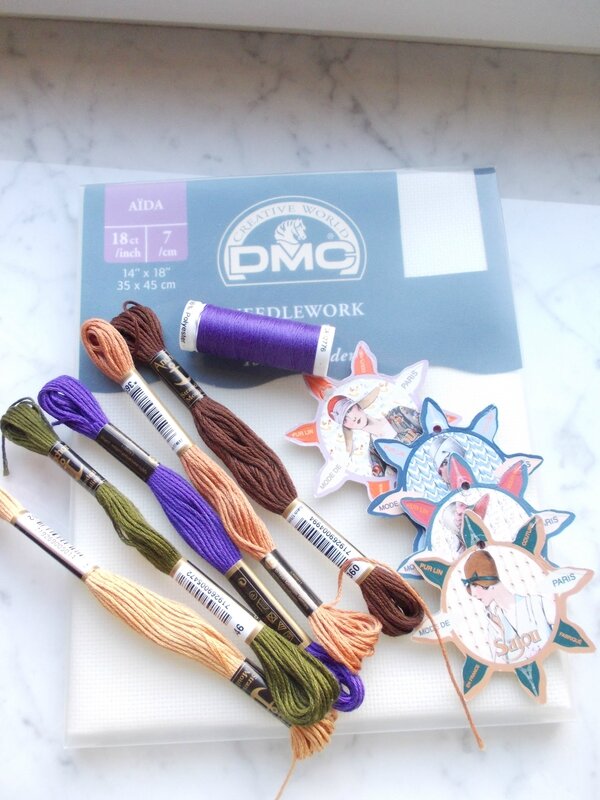 autres fournitures - other supplies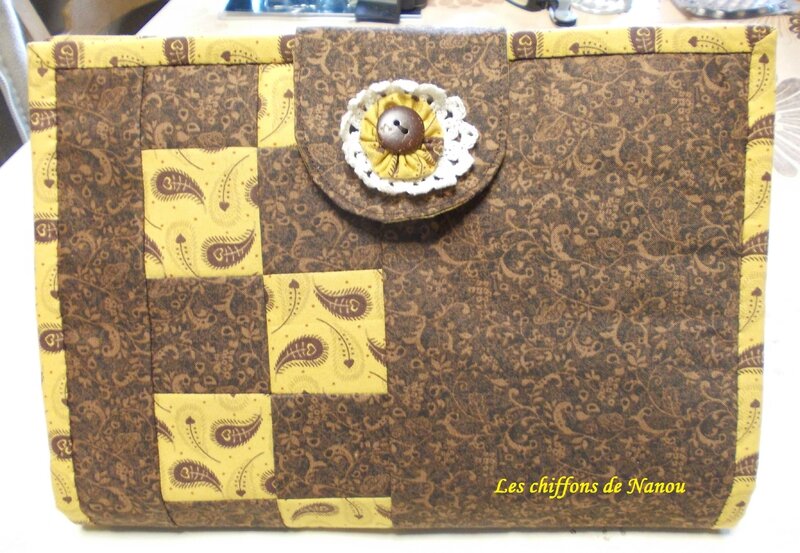 la trousse de brodeuse - embroiderer's case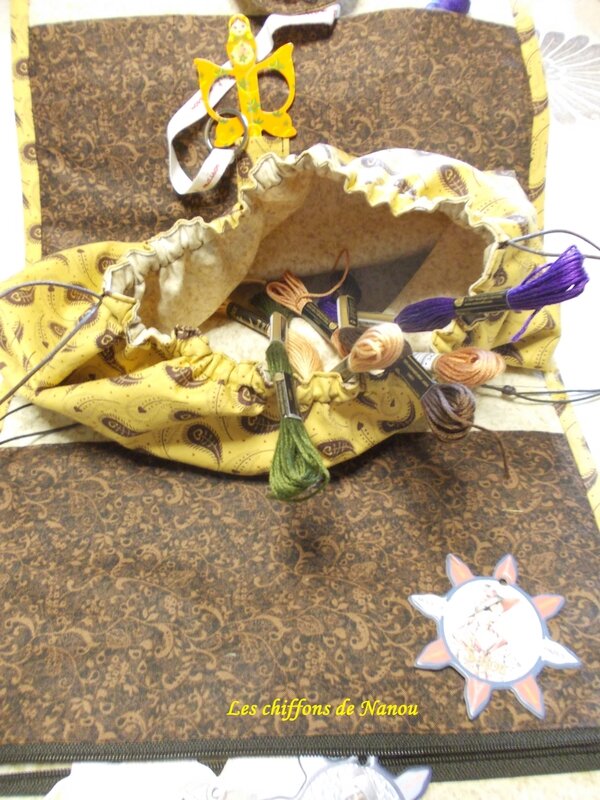 gourmandises salées selon sa préférence - delicacies salted according to her preference.
Et voilà les dernières photos de 2016, un petit passage à vide pour moi, j'ai beaucoup de mal à reprendre mes activités : ça passera !
And here is the last photos of 2016, a small bad patch for me, I have difficulty taking back my activities : that will pass!
Je vous remercie de votre attention et je vous souhaite une belle semaine.
Thank you of your attention and I wish you a beautiful week.
Comme toutes blogueuses, j'aime lire vos commentaires et je vous remercie de laisser une trace de votre passage.
As every bloggers, I like reading your comments and thank you to leave a track of your passage.
27 janvier 2017
Voici les photos de l'échange de Noël organisé par Mafalda et avec elle-même :
Here are the photos of the exchange of Christmas organized by Mafalda and with herself :
Voici ce que j'ai reçu : - This is what i received :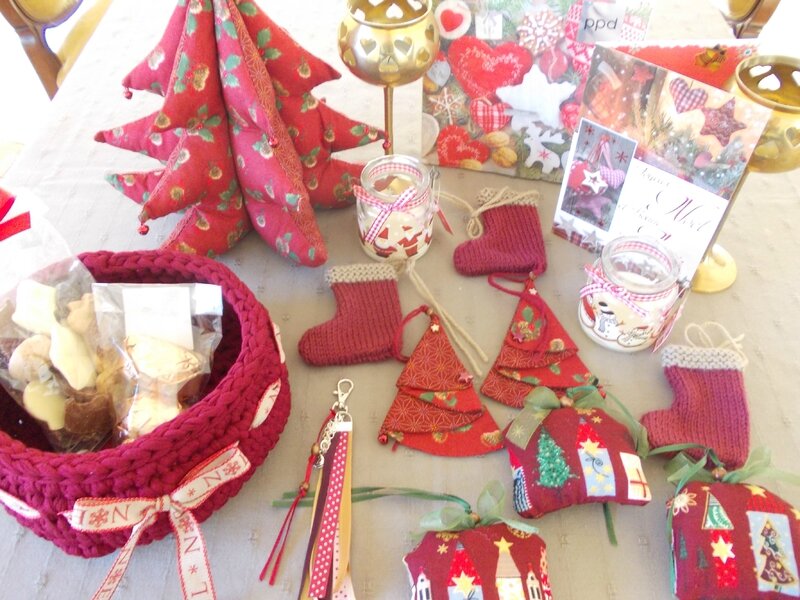 un vue d'ensemble - an overview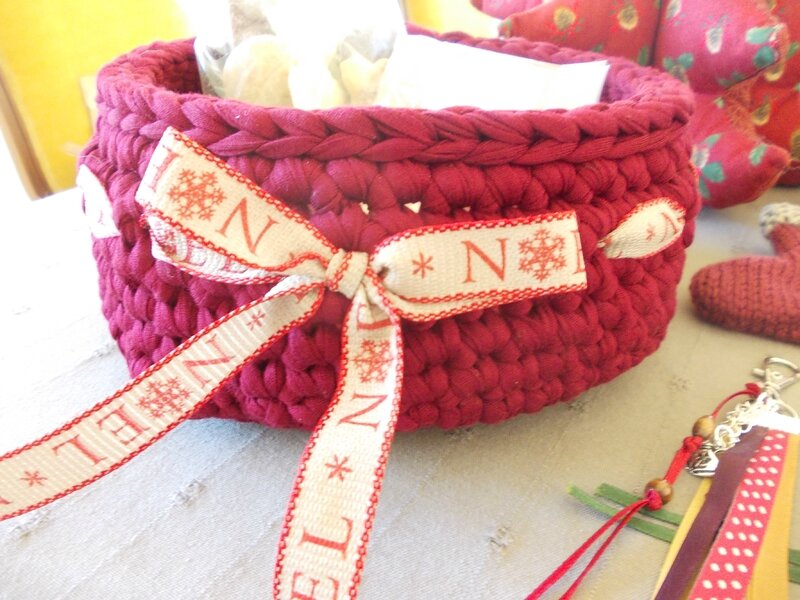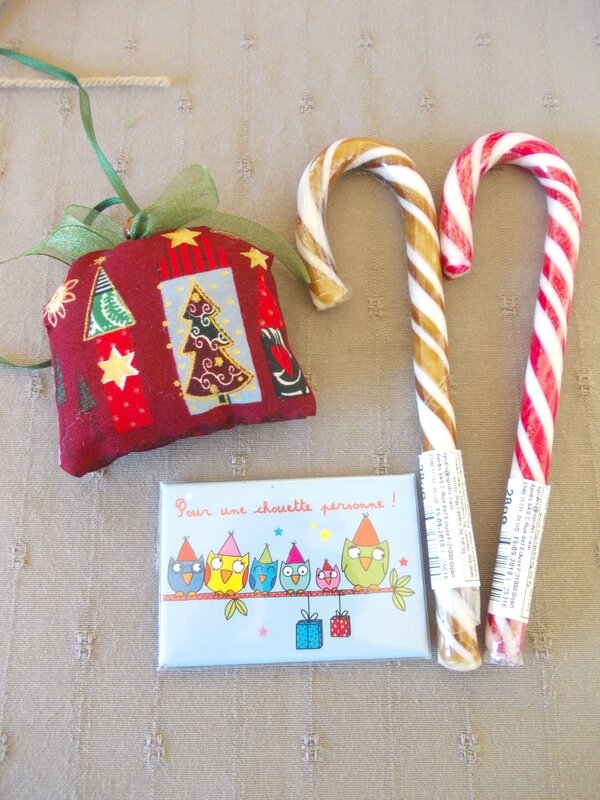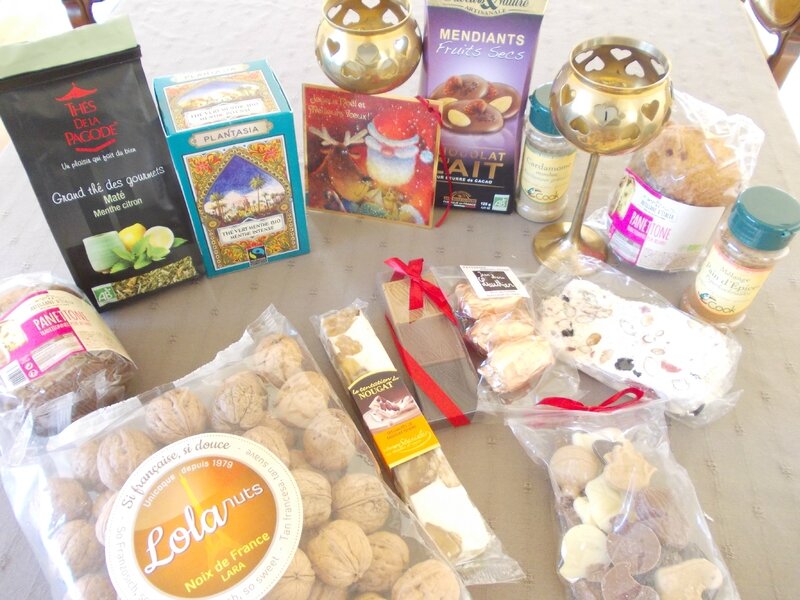 et les gourmandises (miam) - And delicacies (yummy)
Voici ce que je lui ai envoyé : - This is what I sent to her :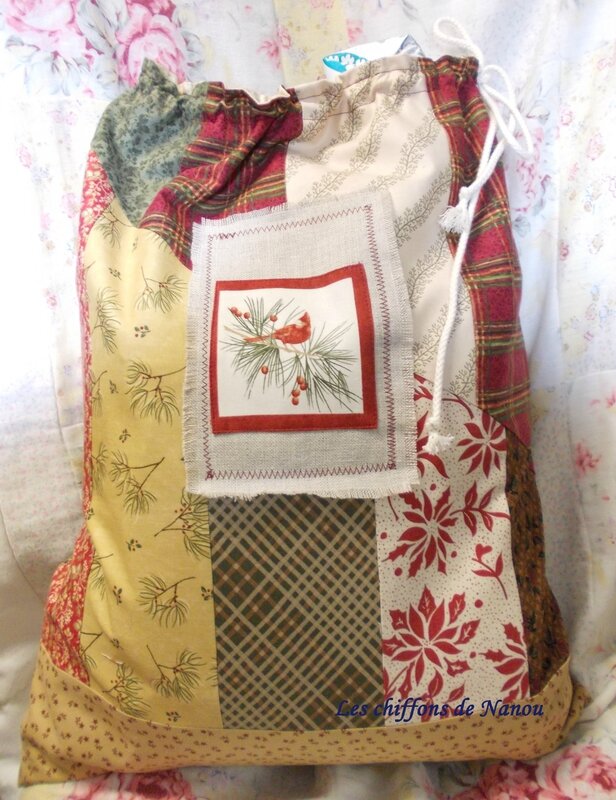 la hotte du Père Noël - the basket of the Santa Claus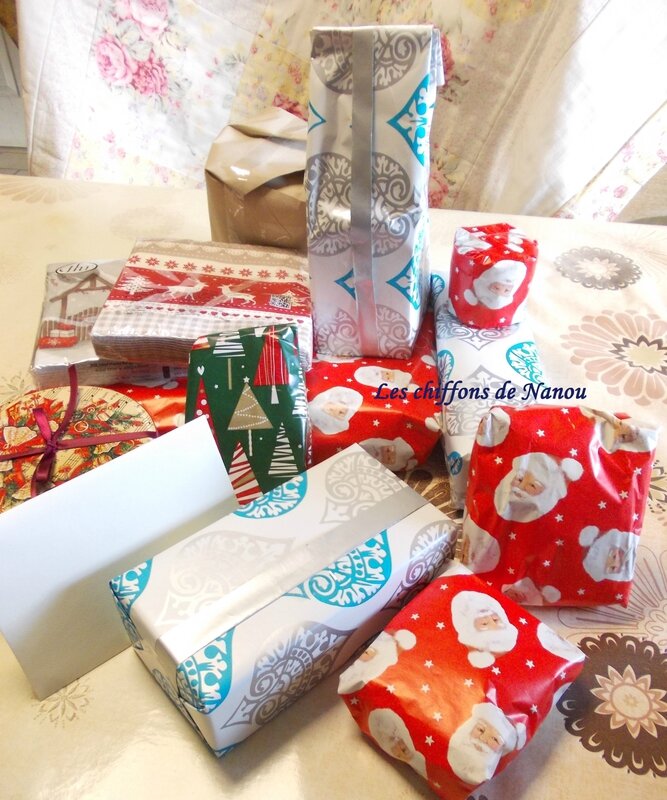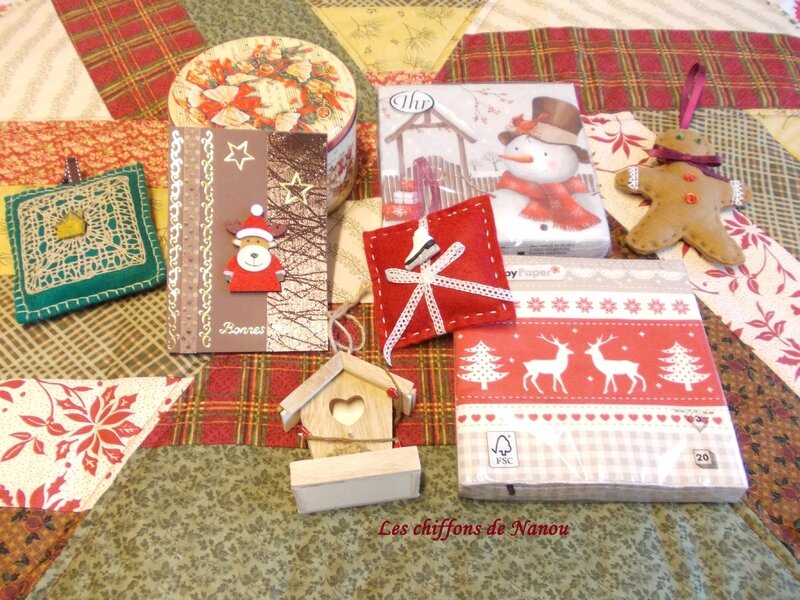 une vue d'ensemble - an overview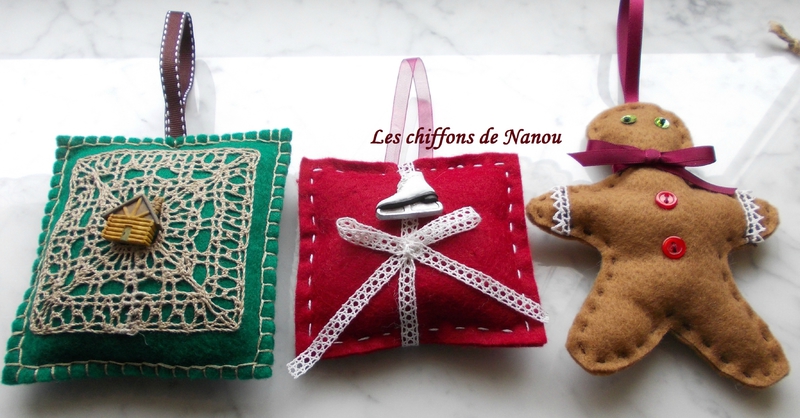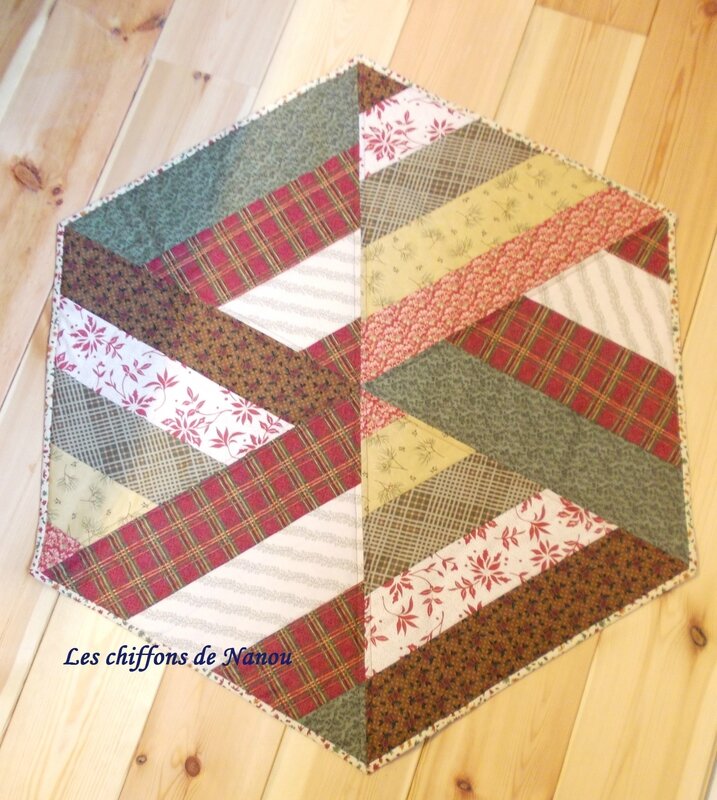 un tapis de sapin (95 cm) - a carpet of fir tree (95 cms)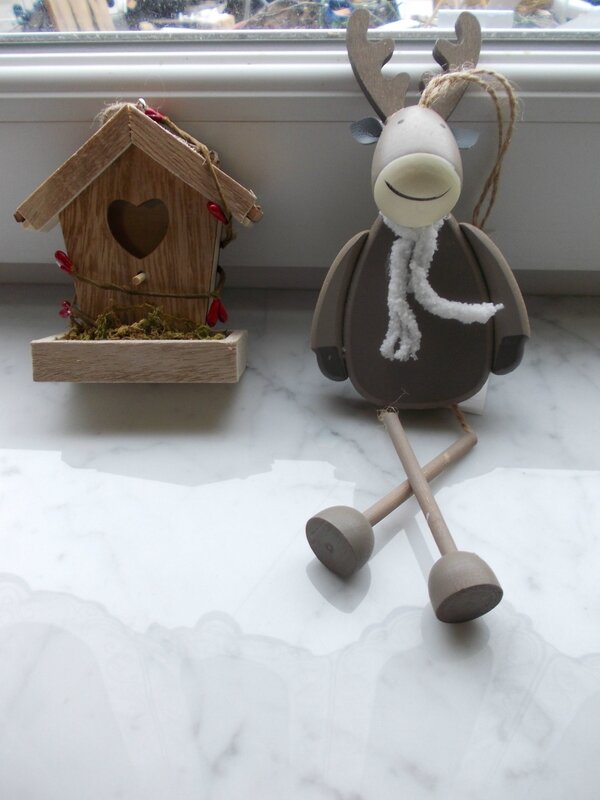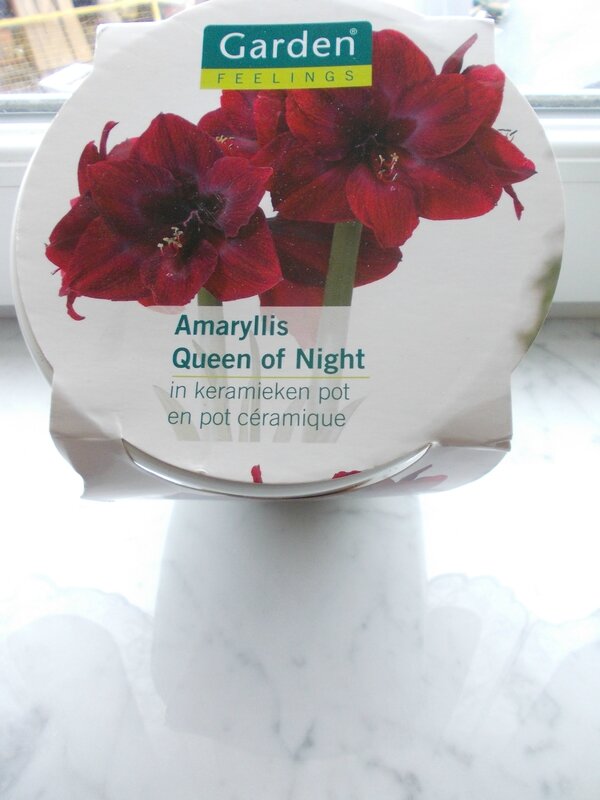 Je remercie Mafalda pour avoir organisé cet échange et la remercie également de m'avoir si bien gâtée.
I thank Mafalda for having organized this exchange and also thank her for having so well spoiled me.
Je vous remercie de votre passage sur mon blog et j'accueille les commentaires avec bonne humeur quels qu'ils soient.
Thank you of your passage on my blog and I welcome comments with good mood whatever they are.
26 janvier 2017
Enfin !... Enfin !... Canalblog fonctionne de nouveau ! A chaque mise à jour, certaine fonctionalité refuse de s'enregistrer. Plus d'un mois que je suis en panne !
Voici donc mes premières photos de Noël.
Ma participation au calendrier de l'Avent organisé par Marie à l'intention de Mafalda :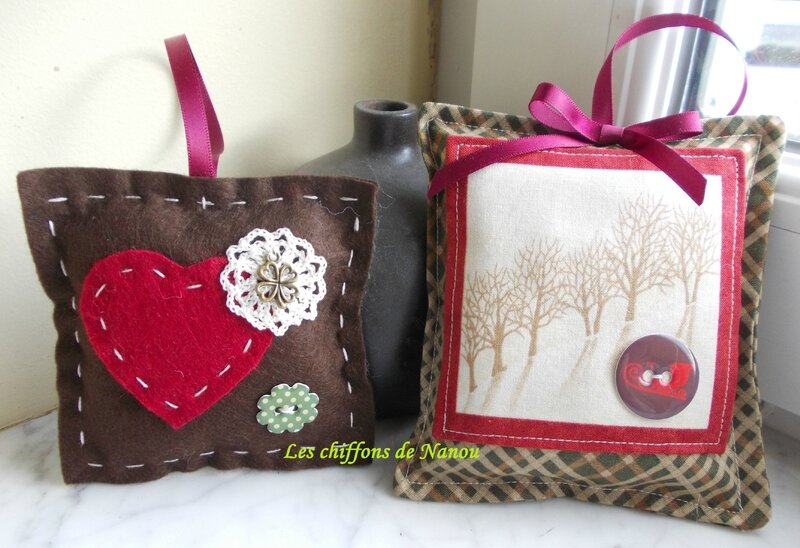 garnitures de Noël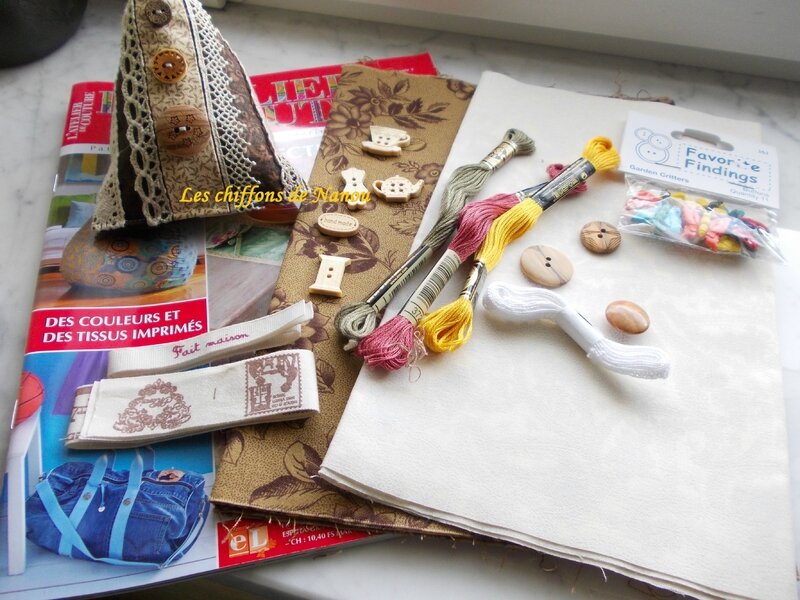 assortiment de fournitures
petit panneau fleuri
Je remercie chaque copine qui m'a envoyé une cybercarte (Cendrine et Nelly) ou un mail (Marie-Eric et VéroV) ou une jolie carte papier à l'occasion de mon anniversaire.
Les voici :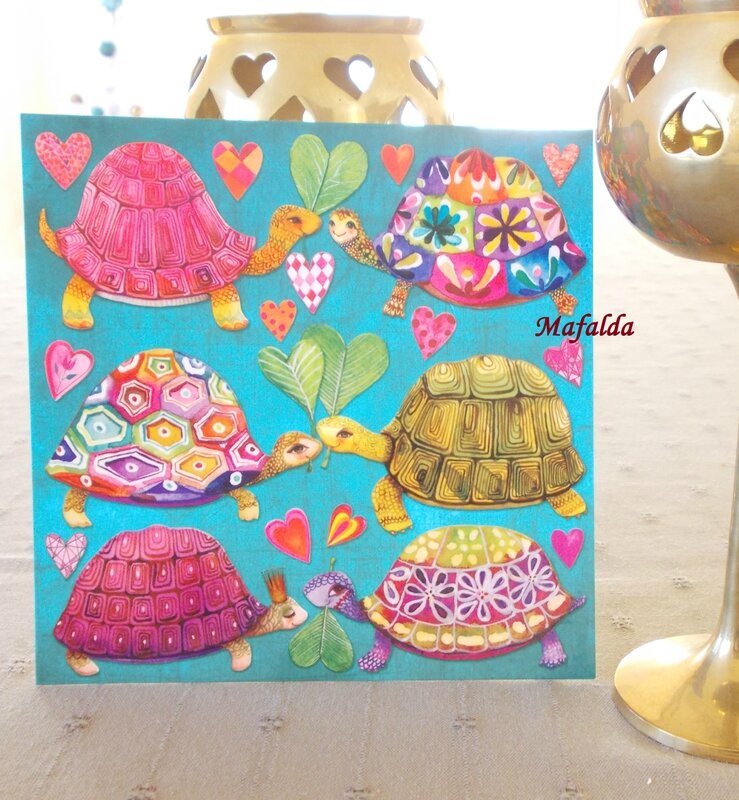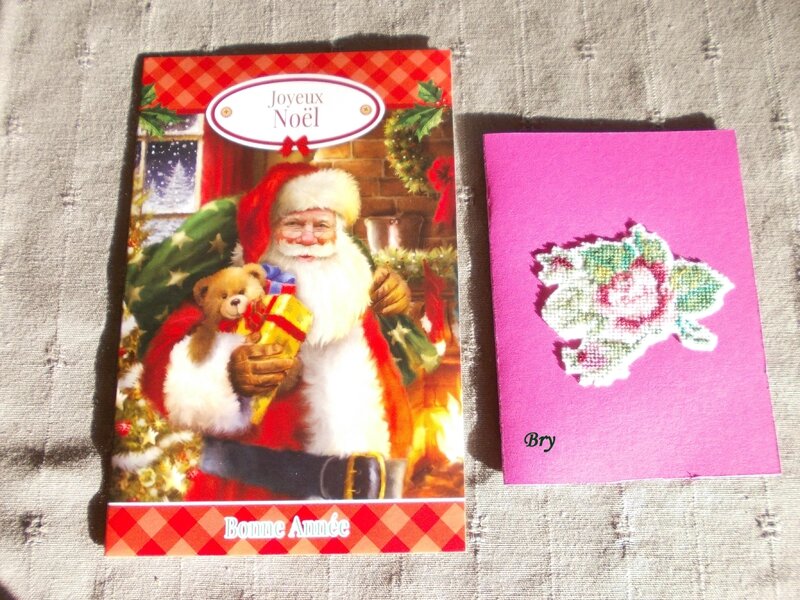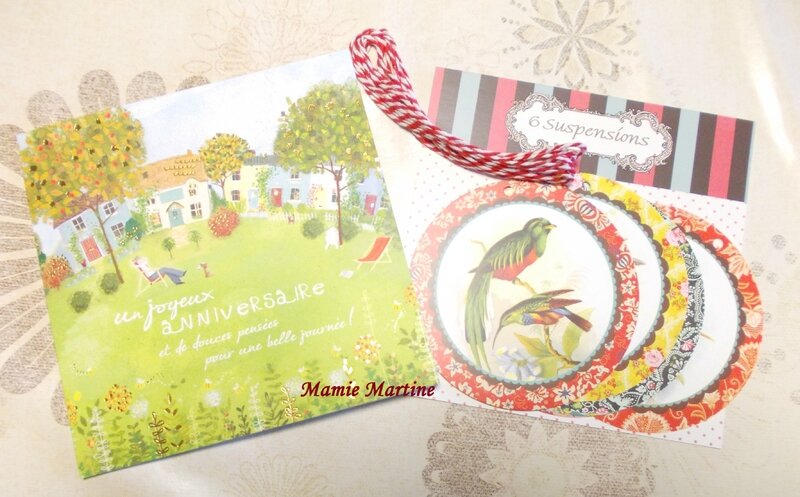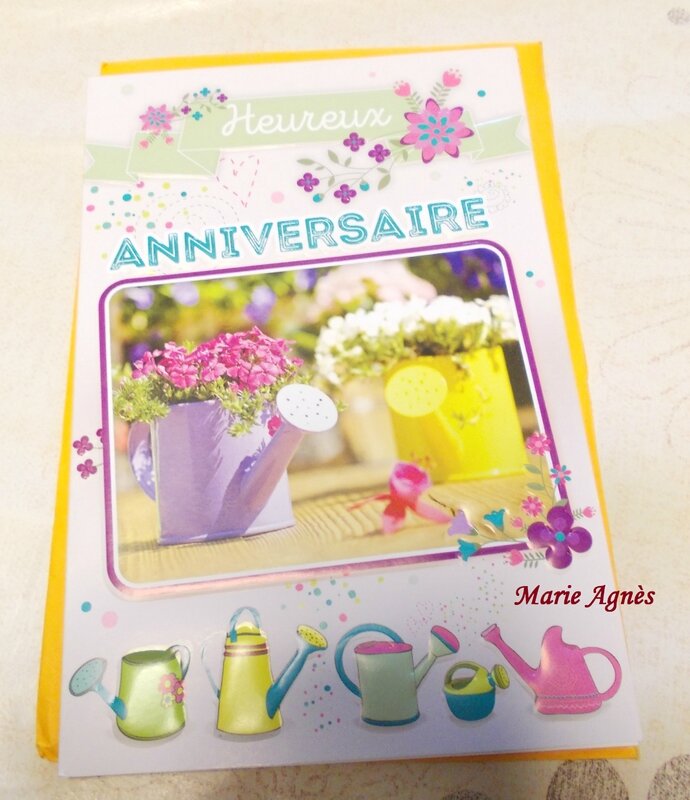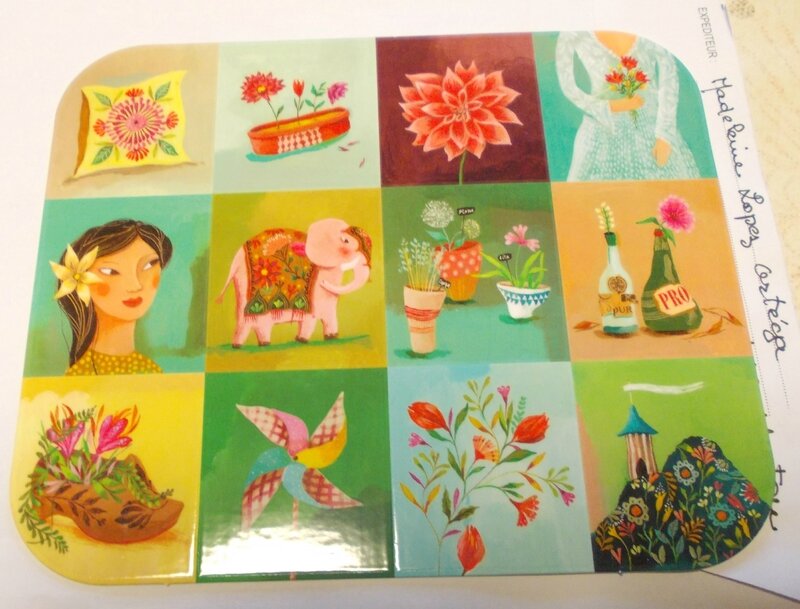 Je remercie également Muriel qui a eu la gentillesse de m'envoyer une réalisation en patchwork tressé que voici :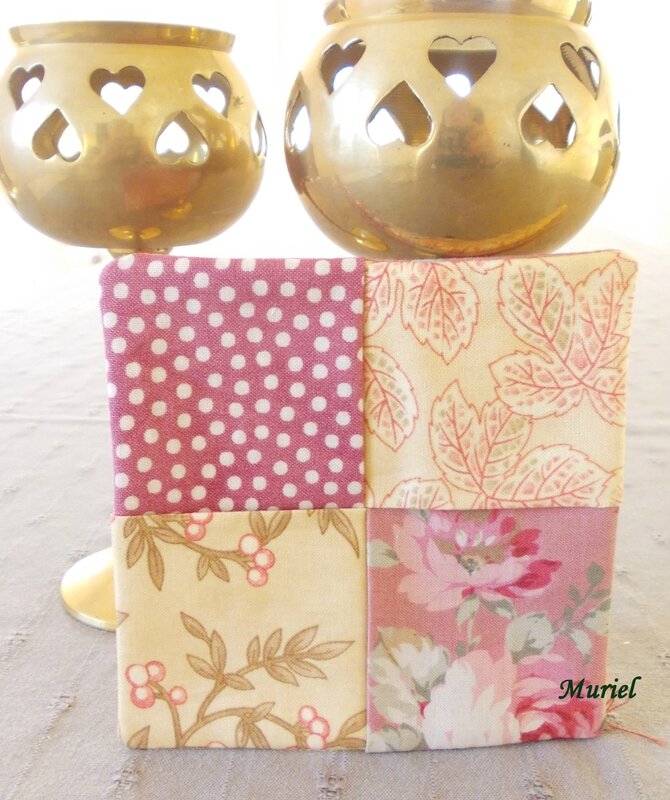 Et enfin je remercie Liberty pour l'échange de voeux organisé par Mafalda :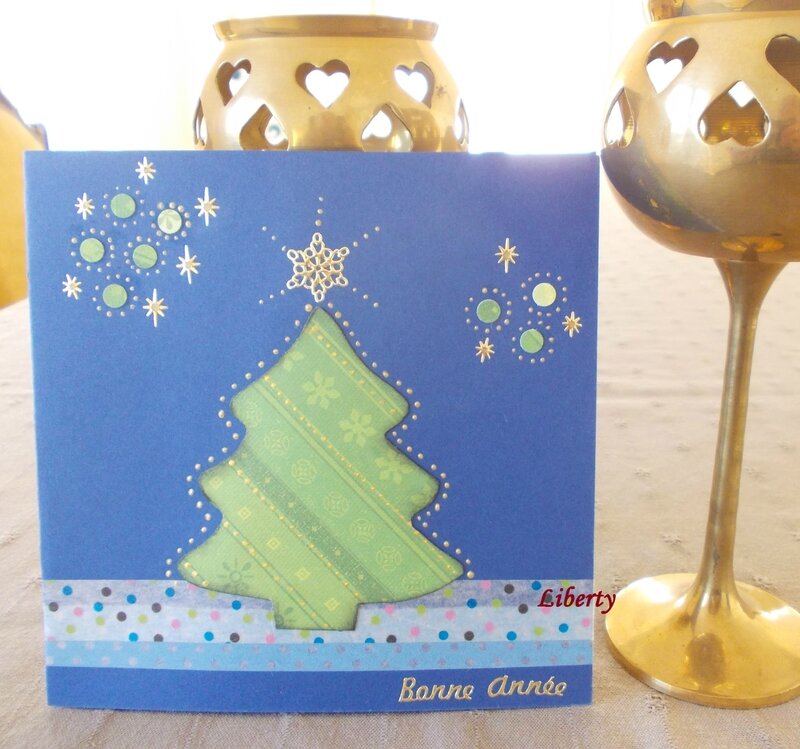 J'ai malheureusement oublié de photographier la mienne, vous pouvez la voir sur son blog http://leblogdeliberty.canalblog.com/
L'année n'a pas vraiment bien commencé. Hormis les problèmes de Canalblog, le 8 janvier,mon superbricoleur de mari est tombé de l'échelle en accrochant les luminaires, le voilà maintenant avec une vertèbre cassée, il est en repos forcé avec un corset orthopédique. Il n'est pas vraiment sage et parle déjà de se remettre au travail, à part le lier sur son fauteuil, avez-vous une autre idée ?
J'ai beaucoup de travaux en retard que je pense pouvoir reprendre la semaine prochaine.
Je vous remercie de m'avoir prêter attention et je souhaite à chacune d'entre vous une excellente année riche en création.
24 octobre 2016
Liberty vient de recevoir le "sac fruits rouges", il a parcouru 748 km jusque La Rochelle.
Liberty has just received the " bag red berries ", he traveled 748 km to La Rochelle.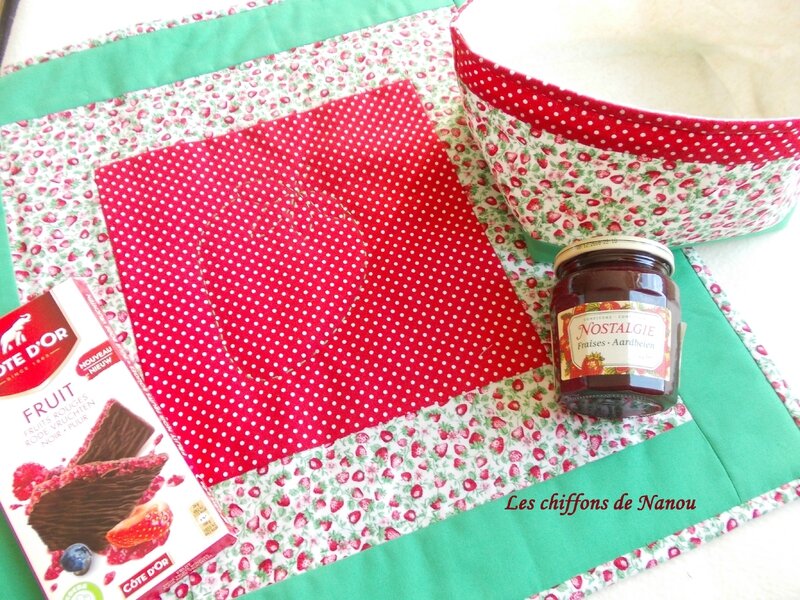 Je l'ai rempli d'un centre de table et de sa panière assortie, pour les petits déjeuners "confiture" ou pour les gouters "cupcake".
I filled it with a table centerpiece and with the matched basket, for breakfasts "jam" or for gouters "cupcake".
Je les ai accompagnés d'un pot de confiture de fraises ainsi que d'une tablette de chocolat aux fruits rouges (dernère création "Côte d'Or").
I accompanied them with a jar of jam of strawberries as well as with a chocolate bar in red berries (last creation "Côte-d'Or").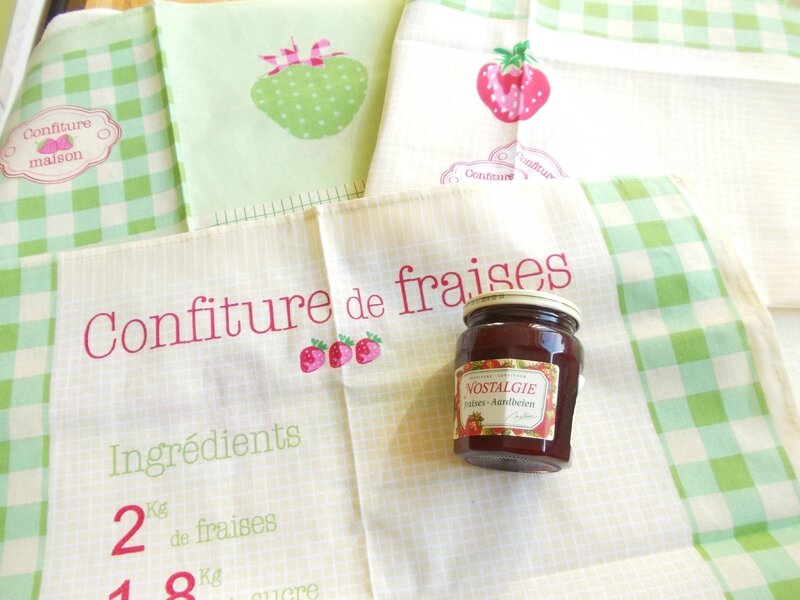 J'y ai ajouté 3 torchons de cuisine sur le thème "fraise". - I added it 3 cloths of kitchen on the theme "strawberry".
Je vous remercie de m'avoir prêté attention et vous souhaite une bonne semaine.
Thank you to have paid me attention and wishes you a good week.
17 octobre 2016
Voilà ! notre SWAP d'automne organisé par Mafalda est terminé ! - Here we are! our SWAP of autumn organized by Mafalda is ended !
Ma partenaire est Marie-Ange dont voici le blog : http://www.marieange-creations.fr/ -
My partner is Marie-angel of whom here is the blog: http: // www.marieange-creations.fr/
Je vous présente les cadeaux reçus de Marie-Ange : - I present you presents received from Marie-angel :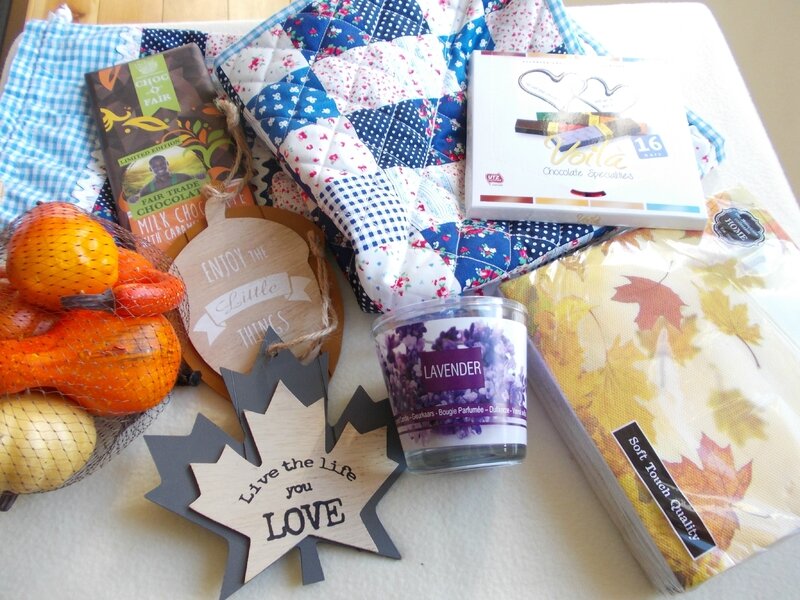 une vue d'ensemble - an overview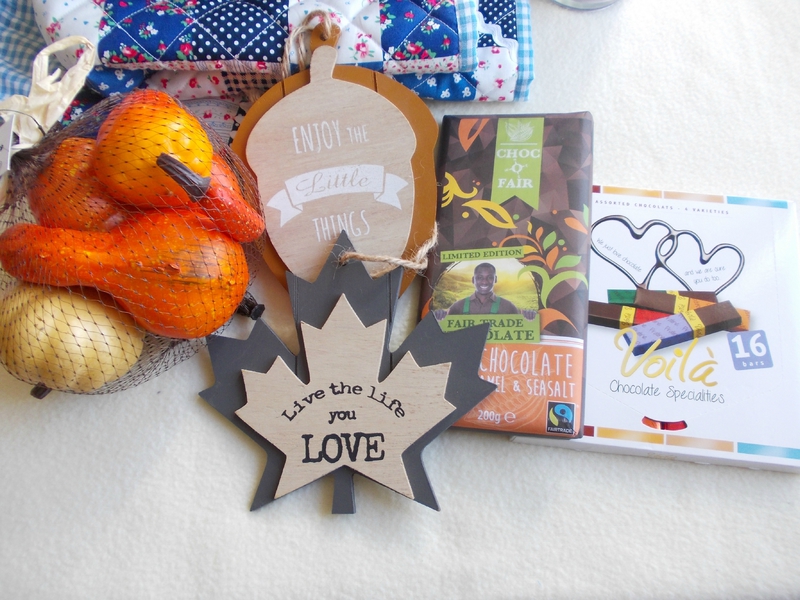 de très jolis médaillons en bois à suspendre, des courges pour garnir et du chocolat
very attractive wooden medallions to be suspended, gourds to furnish and with some chocolate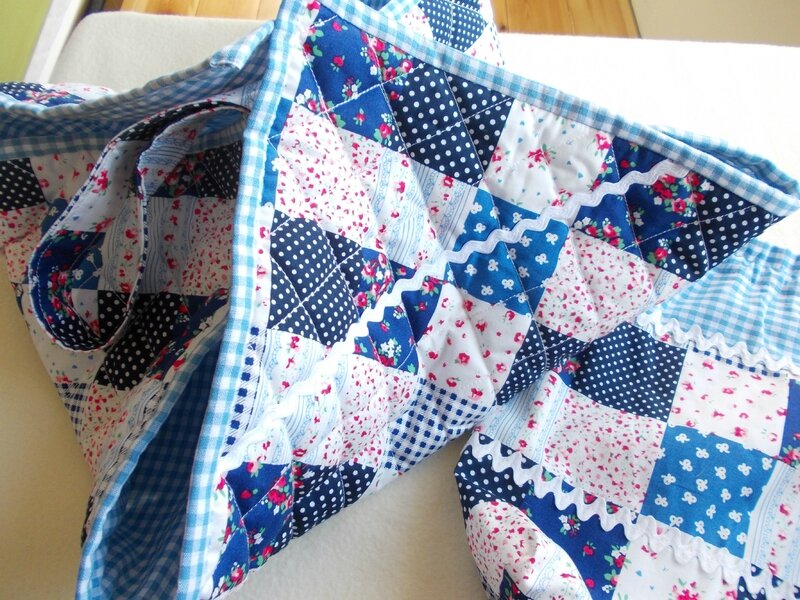 Un sac pour transporter une tarte avec sa housse assortie - A bag to transport a tart with its matched cover
Voici maintenant ce que je lui ai envoyé en échange : - While maintaining what I sent her in exchange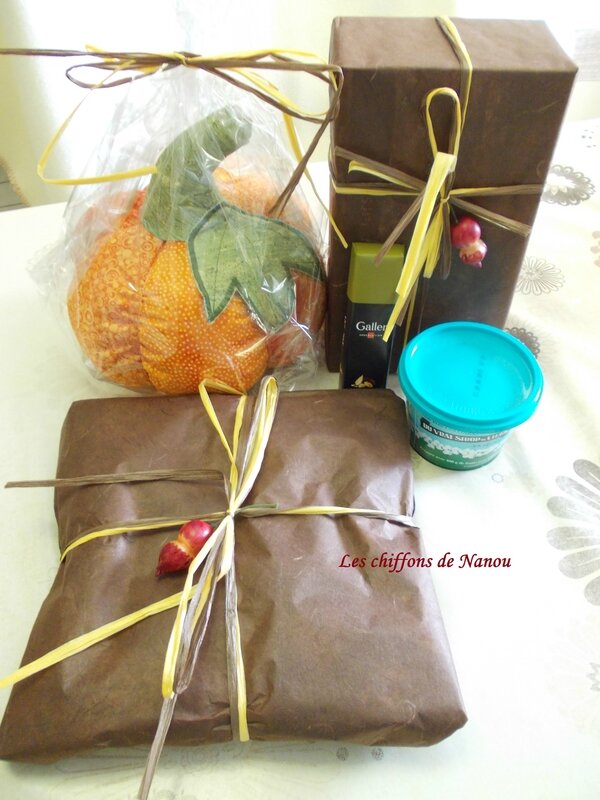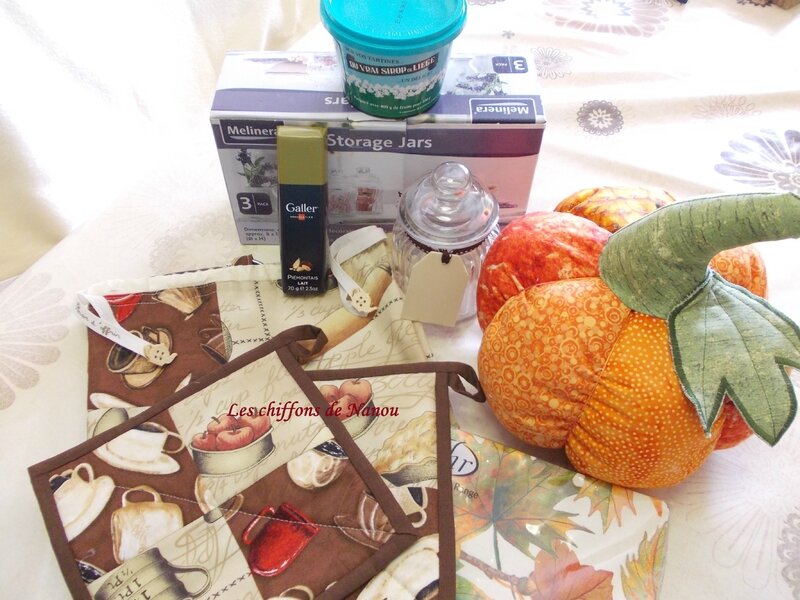 une vue d'ensemble avec du véritable sirop de Liège - an overview with some real syrup of Liège
des pots hermétiques garnis d'une étiquette en bois - hermetic jars furnish with a wooden label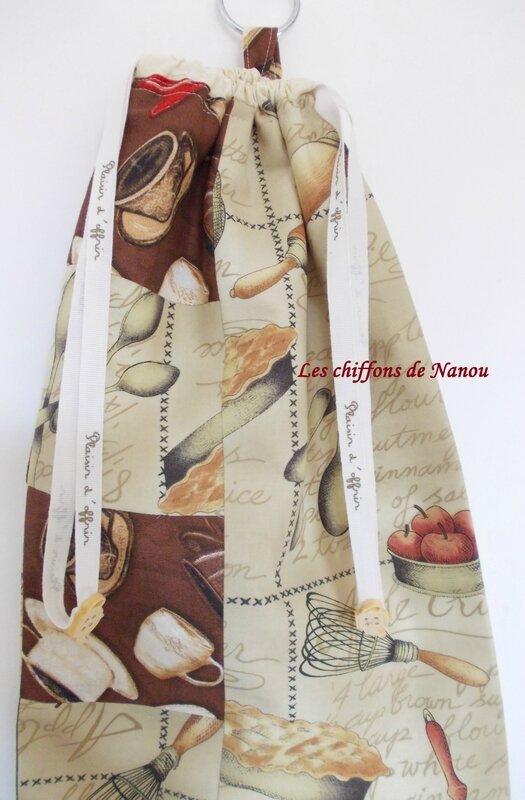 le sac à pain - bag for bread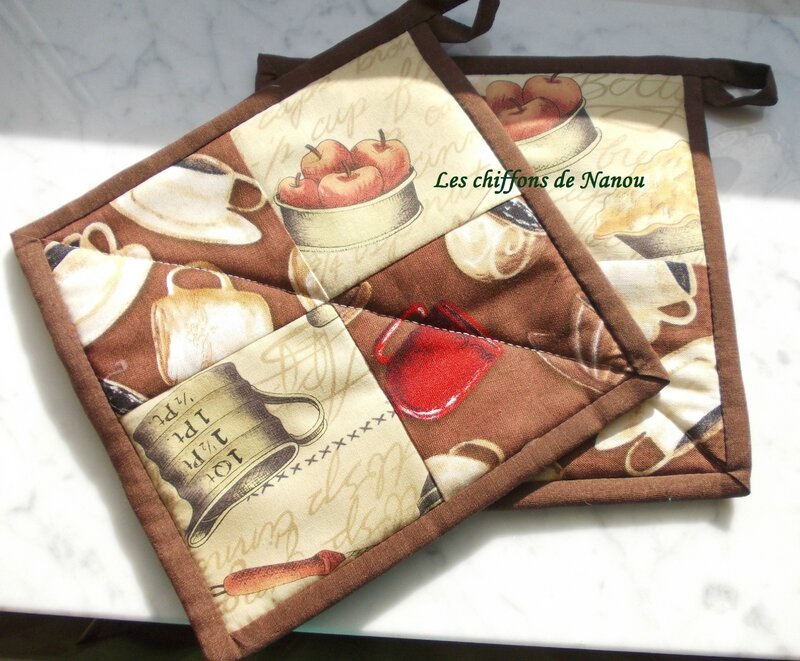 les maniques assorties - the matched pot holders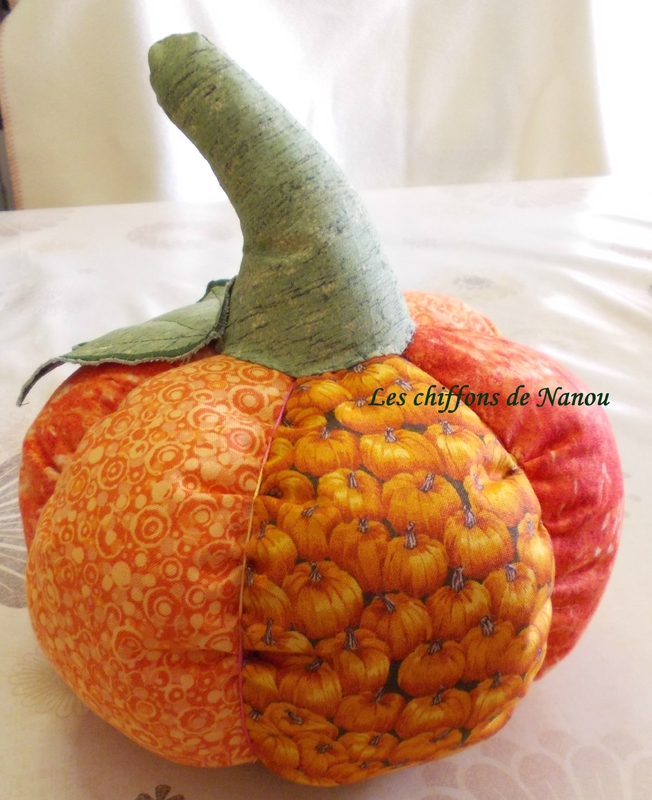 le potiron - the pumpkin
Un échange très agréable à faire car j'aime les couleurs d'automne. Je remercie Marie-Ange d'avoir partagé cette aventure avec moi.
An exchange very pleasant to make because I like autumn colors. I thank Marie-Ange for having shared this adventure with me.
Je vous remercie vous aussi, lectrices de ce blog, de le partager avec moi et d'y laisser une trace de votre passage.
Thank you you too, readers of this blog, to share him with me and to leave with it a track of your passage.
A bientôt pour d'autres aventures ! - See you soon for other adventures!
26 septembre 2016
Bonjour - Hello
Aujourd'hui, je vous parle du sac "fruits rouges". Il est arrivé du Canada : 5.375 km.
Today, I speak to you the bag "red berries". It arrived from Canada: 5.375 km.
C'est Nathalie, du blog http://pulsarbleue.canalblog.com/ qui me l'a envoyé. Il est bien garni de fruits rouges sous toutes les formes.
It is Nathalie, of the blog http://pulsarbleue.canalblog.com/ that sent him to me. He is furnished well with red berries under all the forms.
Voyez par vous-même - See for yourself.
2 vues d'ensemble - 2 overviews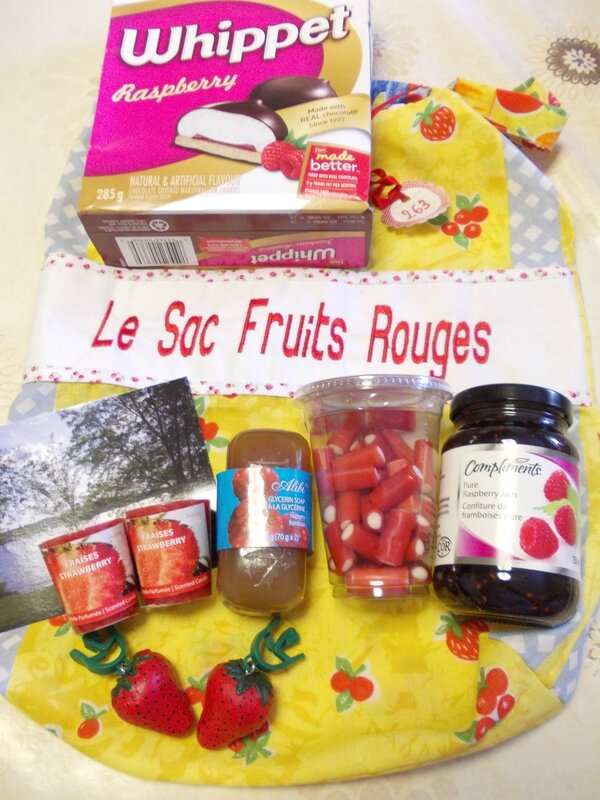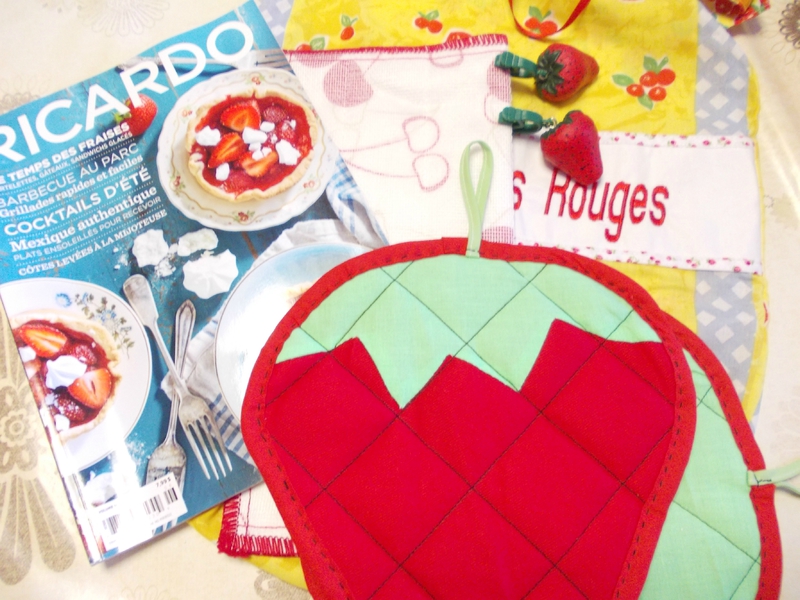 De délicieuses gourmandises - Of delicious delicacies
Un livre de recettes accompagné de bougies parfumées et de jolis poids pour la nappe.
A cookbook accompanied with perfumed candles and with attractive weights for the tablecloth.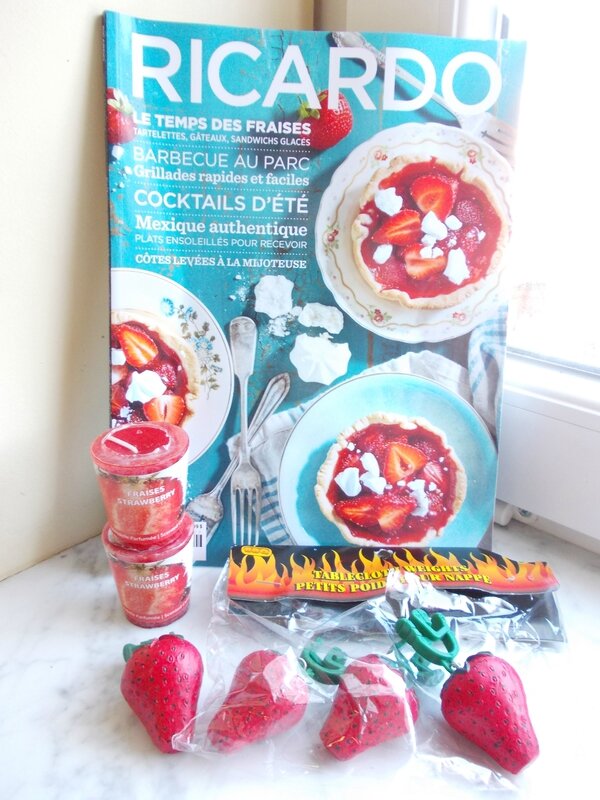 Un chiffon magique et des maniques pour la cuisine. - A magic cloth and oven gloves for the kitchen.
Je la remercie pour ces jolis présents. - I thank her for these attractive presents.
Je vais à mon tour remplir ce joli sac et l'envoyer à la prochaine destinataire.
Oui !!! Mais à qui ???
Qui veut le recevoir ? Je vous invite à poser votre candidature. Je ne demande pas de "Curriculum vitae", juste une personne qui a envie de le recevoir et de le faire voyager à son tour. Un tirage au sort sera effectué le 10/10/16.
I go to my tour to fill this attractive bag and to send it to the next addressee.
Yes!!! But to whom?


Who wants to receive it ? I invite you to apply. I do not ask for "Curriculum vitae", just a person who wants to receive it and to make it travel in his turn. A drawing lots will be made on 10/10/16.
Je remercie mes nouvelles abonnées.
Et comme promis, la personne qui est arrivée à la dizaine suivante est Nancy qui se verra récompensée par une petite réalisation maison.
I thank my new subscribers.
And as betrothed, the person who arrived at following about ten is Nancy which will see itself rewarded by a small realization house.
Je vous souhaite une bonne semaine et vous remercie de votre passage et de vos éventuels commentaires.
I wish you a good week and thank you for your passage and for your possible comments.
05 septembre 2016
Bonjour à toutes - Hello to all.
Souvenez-vous, il y a quelques semaines, j'ai reçu le sac de "Loire Atlantique" - Remember, there is a few weeks, I received the bag of "Loire-Atlantique".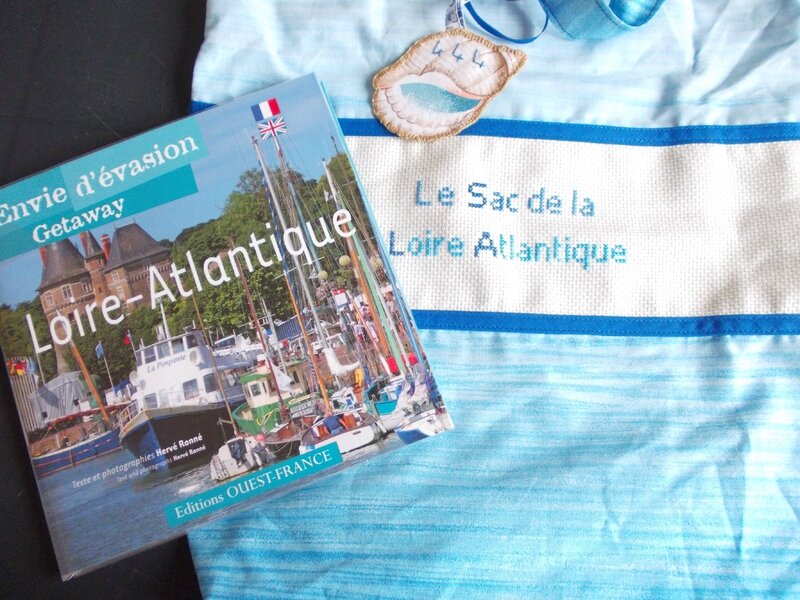 Le voilà reparti maintenant chez Jacqueline àToulon. Je l'ai chargé de réalisations" faites maison".
Here he is left now at Jacqueline in Toulon. I loaded him with "home-made" realizations.
une vue d'ensemble - an overview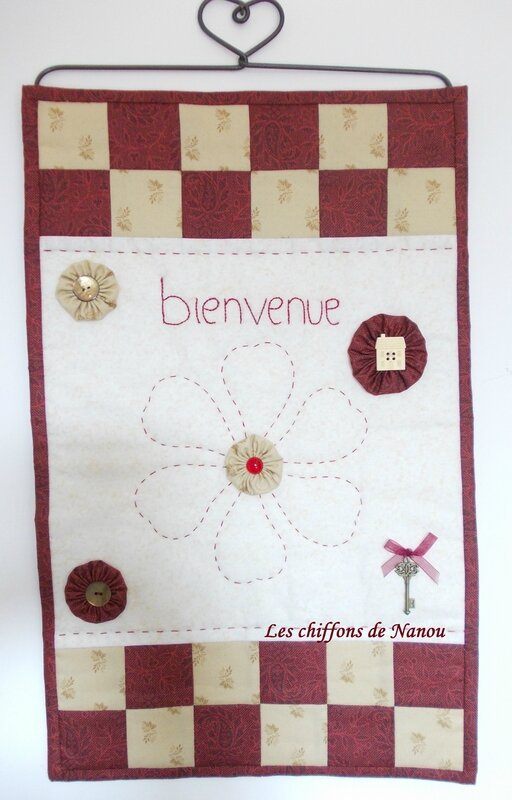 le panneau de bienvenue - the panel of welcome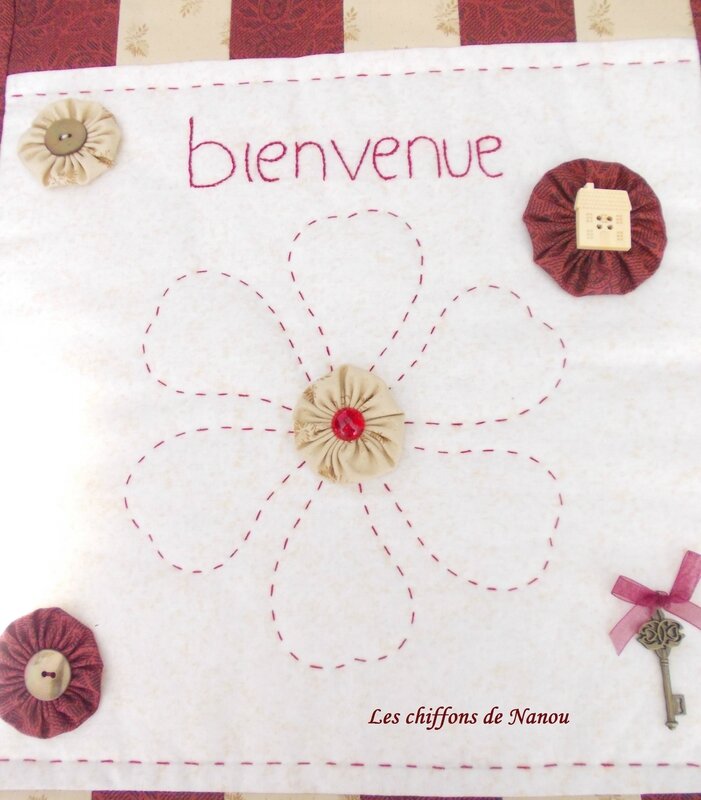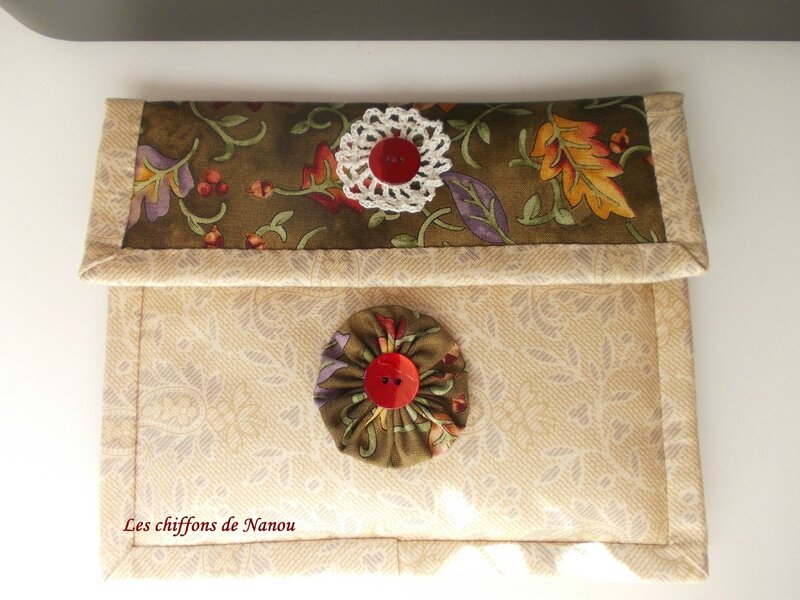 une pochette à bijoux ou un nécessaire de couture - a dress handkerchief with jewels or a sewing kit.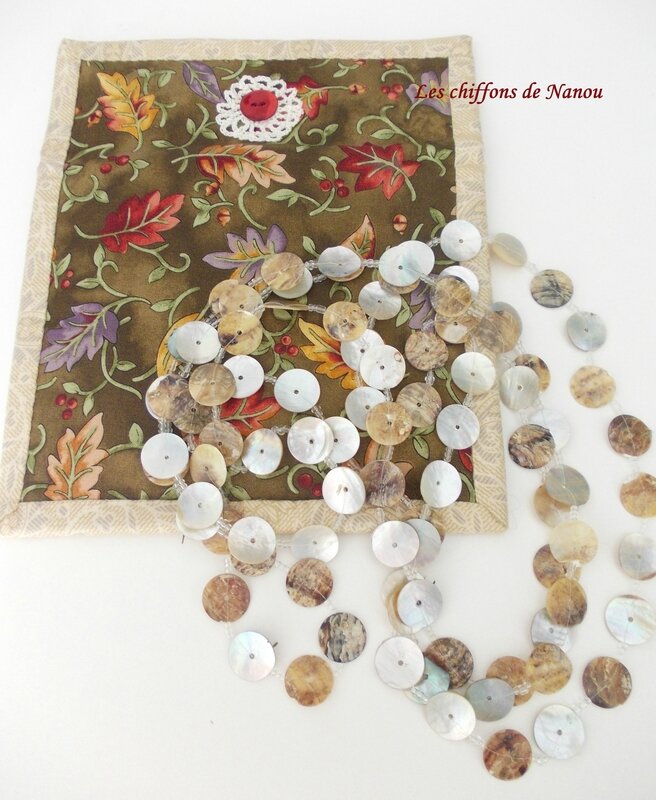 la pochette avec son collier de boutons nacrés - the dress handkerchief with its necklace of pearly buttons.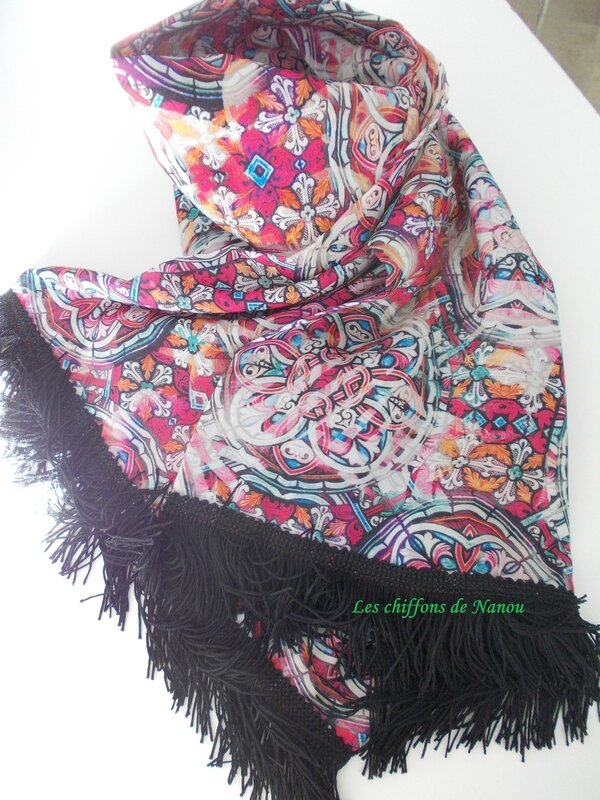 une écharpe de soie polyester - a silk scarf polyester
Le tout était accompagné d'une pelote de laine (200gr) et d'un ensemble de petits sacs à lavande prêts à broder.
The whole was accompanied with a ball of wool (200gr) and of a set of small bags with lavender loans to be embroidered.
Je remercie chacune d'entre vous de votre passage et j'accueille les commentaires avec beaucoup de plaisir. J'y répondrai avec joie.
I thank each of you of your passage and I welcome comments with a lot of pleasure. I shall answer it with enjoyment.
25 août 2016
Bonjour à toutes - Hello to all
Lors de mon anniblog, 3 personnes avaient été tirées au sort pour recevoir un petit cadeau.
During my anniblog, 3 people had been drawn lots to receive a little gift.
Voici les cadeaux reçus par Qinoa et Martine pour avoir laissé un commentaire :
Here are presents received by Qinoa and Martine to have left a comment :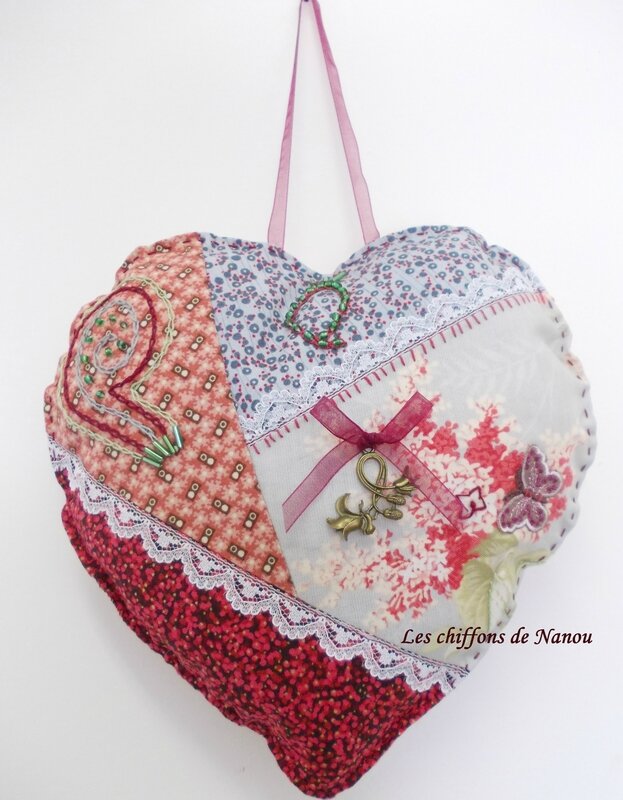 le coeur brodé pour Qinoa - the heart embroidered for Qinoa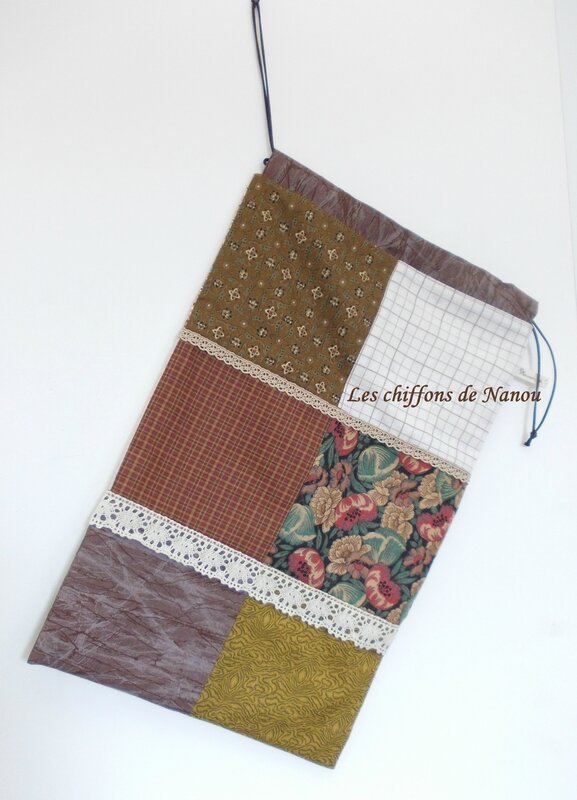 le sac en patchwork à coulisses pour Martine - The bag in patchwork with wings for Martine
Et voici le cadeau reçu par Muriel pour s'être abonnée à mon blog : - And here is the present received by Muriel to have subscribed to my blog:
un panneau de bienvenue - panel of welcome
Je remercie ces 3 lectrices pour leur fidélité et, je remercie aussi toutes celles qui n'ont pas eu la chance d'être tirée au sort. Je vous rassure, il y aura d'autres anniversaires.
I thank these 3 readers for their loyalty and, I also thank all those who were not lucky enough to be drawn lots. I reassure you, there will be other birthdays.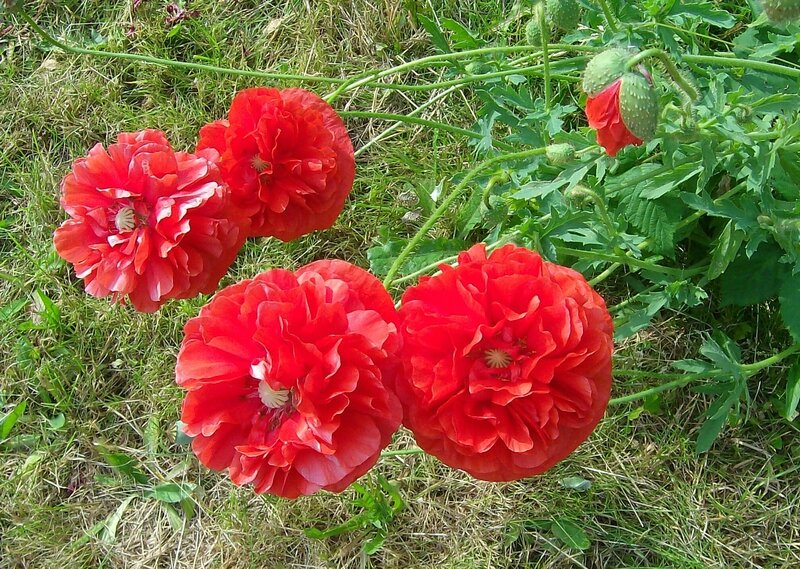 Voici quelques coquelicots un peu particuliers par le nombre de pétales, ils sont apparus, un jour, dans mon jardin. Malheureusement, ils ont été rasés par une tondeuse malintentionnée à l'automne dernier. Savez-vous comment s'appelle cette variété ? Car je n'en trouve pas dans le commerce et j'aimerais beaucoup en retrouver.
Here is some a little bit particular poppies by the number of petals, they appeared, one day, in my garden. Unfortunately, they were shaved by an ill-intentioned lawn mower in the last autumn. Do you know what's the name of this variety? Because I do not find in the trade there and I would like very much finding it.
Je profite de ce message pour remercier également mes nouvelles abonnées. - I take advantage of this message to thank also my new subscribers.
L'abonnée qui s'inscrira à la prochaine dizaine aura la chance de recevoir une surprise faite maison.
The subscriber who will join next about ten will be lucky enough to receive a home-made surprise.
Le week-end arrive bientôt et je vous souhaite de le passer agréablement. - The weekend soon arrives and I wish you to spend it pleasantly.
Nanou
06 août 2016
Je viens de recevoir le sac de la Loire atlantique, c'est un bien joli sac tout de bleu vêtu.
I have just received the bag of the Loire-Atlantique, it is a very attractive bag everything of dressed blue.
Je vous le présente : - I present it to you :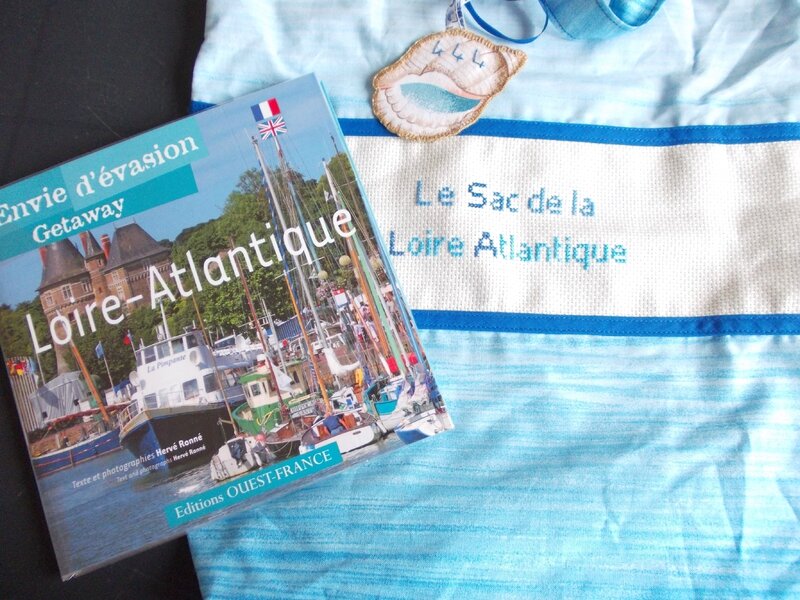 Un livre très intéressant l'accompagne et doit continuer à voyager avec le sac. Il est rempli de photos de toute la région.
A very interesting book accompanies him(it) and has to continue to travel with the bag. It is filled with photos of all the region.
Je vous montre maintenant les cadeaux reçus - I show you now the received presents: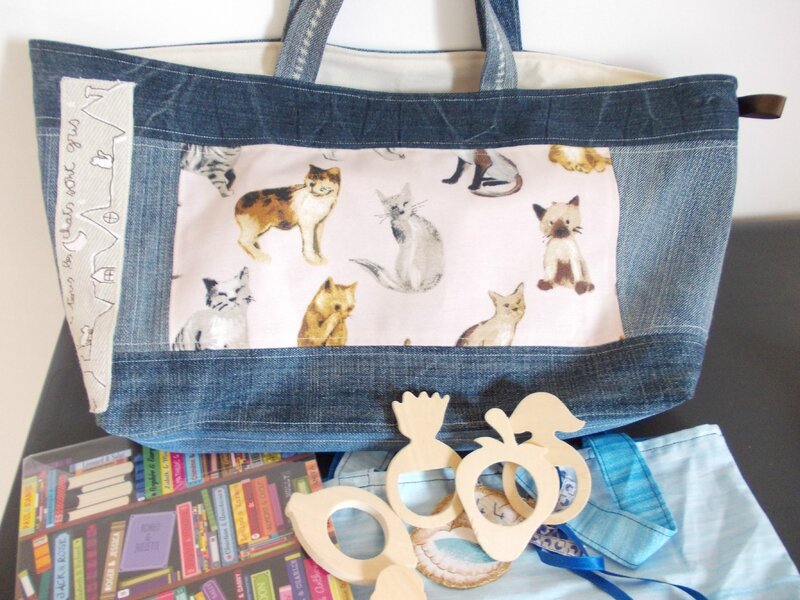 un sac à l'esprit très félin - a bag in the very feline spirit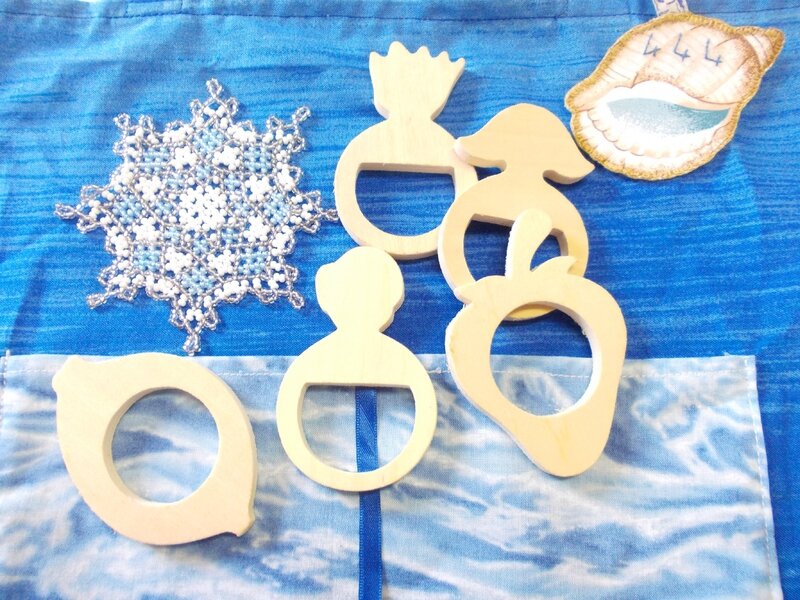 une étoile de perles, des anneaux de serviettes à personnaliser - a star of pearls, rings of towels to be personalized
des serviettes et un roman - towels and novel
Un cahier de messages l'accompagne tout au long de son périple - an exercise book of messages accompanies him throughout its trip.
Je suis ravie des présents qu'il contenait et je remercie Nelly pour l'avoir si bien rempli, je remercie aussi Martine pour l'organisation de ce voyage de sac à cadeaux.
I am delighted by the presents which it contained and I thank Nelly for the so well filled credit note, I also thank Martine for the organization of this journey of bag with presents.
Je vous remercie d'avoir pris la peine de me lire jusqu'au bout. Je remercie également toutes les lectrices qui me laissent gentiment un commentaire et aussi celles qui butinent de blog en blog.
Thank you to have made the effort to read to me up to the end. I also thank all the readers who leave me friendly a comment and also those who surf of blog in blog.